"Unhappy Cape", here holidaymakers and inhabitants live happily.
England was determined to capture the island, now Mauritius, then Isle de France. Even if she lost the Vieux Grand Port battle against Napoléon's vessels, in December 1810, soon afterwards, the French surrendered. The last substantial British military force was landed by the Navy around Cap Malheureux, they marched inland and met weak French opposition.
Against all odds, Cap Malheureux does not owe its name to the unfortunate French settlers but to the numerous wrecks around the North.
All of this, is of no or very little interest to Antoine! Antoine is a fisherman, tomorrow morning he is going out to sea to drop his crab traps at Coin de Mire's far end tail. At the moment, sitting on the beach in front of the famous red roofed church, the main attraction of the village, the Must of all selfies, postcards and tourist brochures or leaflets, his only preoccupation is to study the tide! In the background, the turquoise lagoon, the northern islands, Coin de Mire, Flat Island, Round Island and blue sky. Three beautiful orange flamboyant trees are trying to compete with 'Notre Dame Auxiliatrice', but in vain! The red roof shows resistance. There is only one star here and the show goes on!/no one else  or nothing else  will steal the show !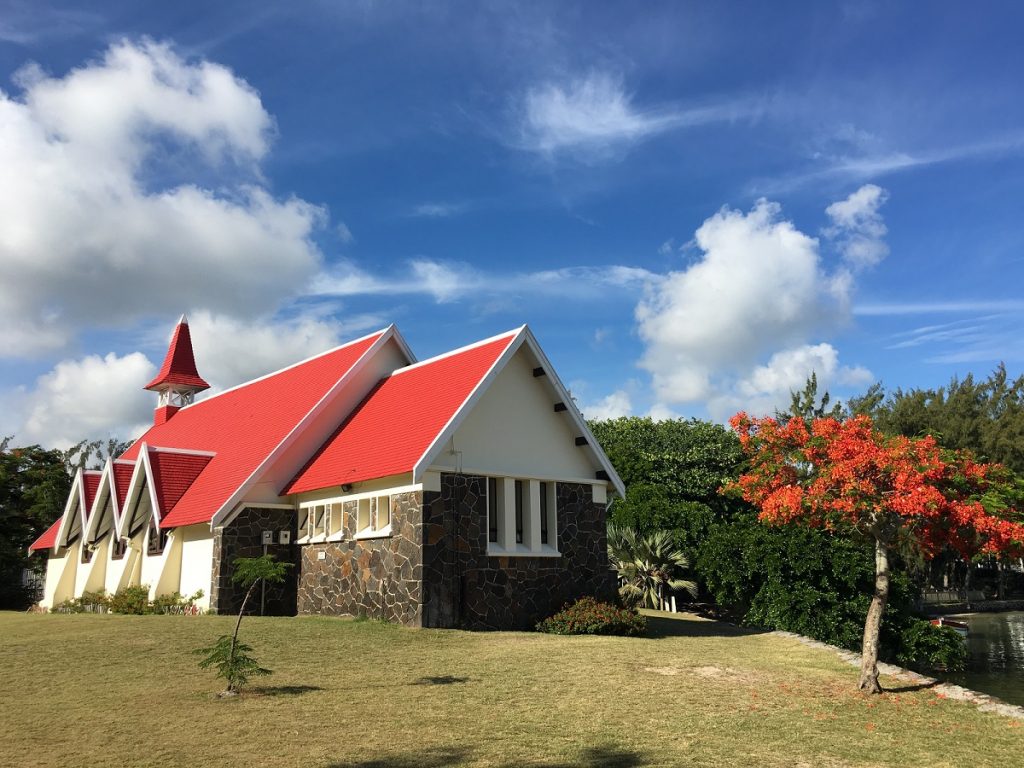 Antoine suggests a little stop at the cemetery, a few meters from the church the best view over the lagoon and the northern islands, he says. Worth the stop, here even cemeteries are friendly!
Cap Malheureux is peaceful and relaxing, small creeks surrounded by black volcanic rocks and much quieter than Grand Baie, the next village along the coast aiming west. Cap Malheureux is of great importance and of strategic position for the local weather station; during cyclones, the highest gusts are registered here says Antoine.
Although the literal translation, I was told, for Cap Malheureux is "Unhappy Cape". Here holidaymakers and inhabitants live happily… difficult to prove the contrary!