Vegetarian curry and biryani, dhal puri, vegetarian rougail, fried mine, gâteaux piments: there are so many incredible Mauritian dishes to tempt vegetarians! Mauritius is known for its fantastic street food scene and you'll find great veggie choices on stalls, in our local restaurants and in hotel restaurants, too.
Below, we share our advice to help you discover the best Mauritian vegetarian cuisine on the island. Enjoy!
Welcome to vegetarians! 
Are you a vegetarian? Don't worry! You will always find something to enjoy in Mauritius. Vegetarian cuisine is popular in many communities on the island, including the Hindu and Christian communities. Many Christians give up meat during religious periods such as Lent, for example. Aside from traditional cultural practices, many of our locals have turned to vegetarianism due to animal rights, the environmental impact or health reasons.
Much of Mauritian cuisine is vegetarian, so you won't be an exception during your stay. You can dive in and try the richness of the local vegetarian recipes, inspired by Indian and African gastronomy.
Vegetarian cuisine: discovering local products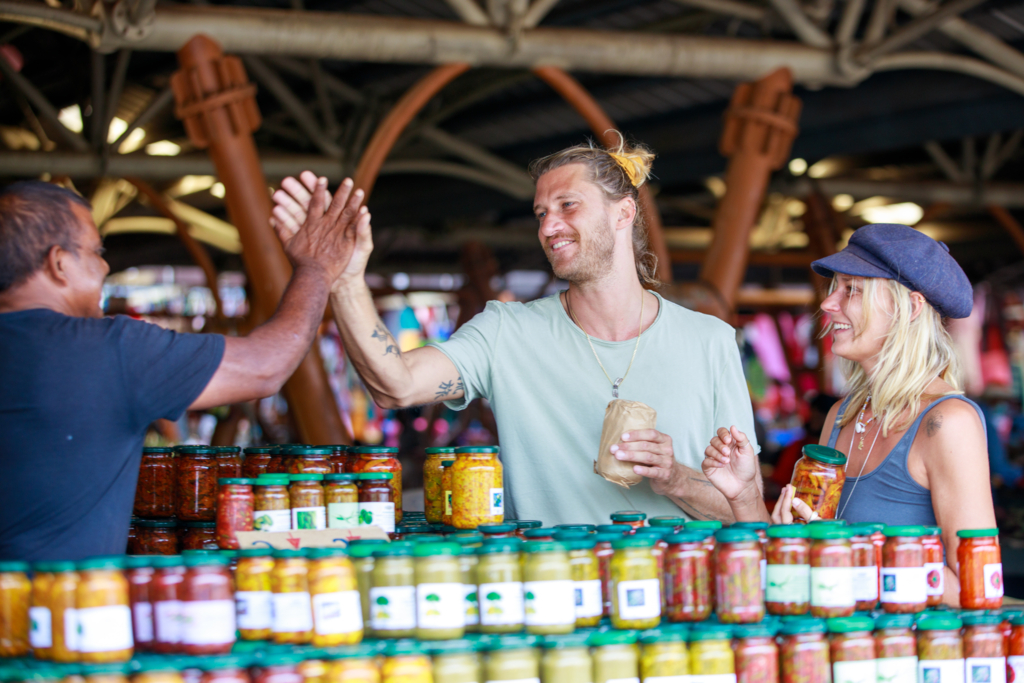 There are plenty of tropical fruits to try during your stay, plus rice, lentils, peas and a huge variety of vegetables. Walk through the market in Port Louis, Quatre-Bornes or Goodlands and you'll see the fresh produce piled high.
Locally-grown sweet potatoes, giraumons, sponge gourd, greens, yams and chayote squash are on offer (some you may not have even heard of), all ready to be enjoyed raw, cooked, grilled or fried. These vegetables are used in many of our local recipes, so give them a try. To finish on a light and exotic note, pineapples, mangoes, papayas, guavas, lychees, bananas, passionfruit and coconuts are just some of the local fruits you can taste during your stay when in season. You'll have to return to Mauritius again if they are out of season, just so you can try them all!
Where to eat vegetarian food?
Tasting Mauritian food is a great way to immerse yourself in local life. The good news is that your vegetarian diet will not deprive you of anything. Visit one of the mobile food trucks and try the chilli cakes and vegetable samosas.
Most of the time, Mauritian restaurants offer vegetarian options. If you have decided to travel around the island, take the opportunity to discover the must-see addresses: in Vacoas-Phoenix, in the centre of the island, Govinda's restaurant serves succulent vegetarian and Indian vegan cuisine. In the southwest, The Green Village restaurant in Coteau-Raffin allows you to taste dishes using vegetables, cereals and legumes surrounded by a green forest. In Triolet, in the north, Pure Vegan Corner offers vegetarian cuisine made with fresh products. In Mahébourg, in the south-east, Escale Creole rustles up a vegetarian version of Creole specialties, to be enjoyed in a friendly atmosphere.
If you are staying at a hotel, make your dietary requirements known at the beginning of your stay, so that the staff can offer you vegetarian options at each mealtime. A little tip: mastering a few words of Creole can be helpful in making yourself understood everywhere. It is also a good opportunity to interact with the locals and deepen your knowledge of Mauritian culture!
By now, you'll know that Mauritius is a destination perfect for vegetarian travellers! Honoured in Mauritian gastronomy, vegetarian cuisine is both tasty and environmentally friendly, since it promotes the use of fresh, local products.
We can't wait for you to come and discover Mauritian vegetarian cuisine. Our vegetarian gastronomy is ready to impress all guests on the island – whether you are vegetarian or not!